Cisco Router CISCO3825-DC, Cisco 3800 Router DC Power Supply, 3825 w/DC PWR, 2GE, 1SFP, 2NME, 4HWIC, IP Base, 128F/512D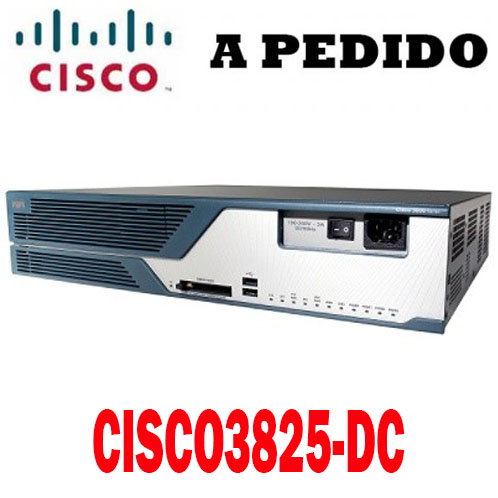 A Pedido de 20 a 30 dias
Specification (CISCO3825-DC)
The integrated services routing architecture of the Cisco 3825 builds on the powerful Cisco 3700 Series routers designed to embed and integrate security and voice processing with advanced services for rapid deployment of new applications, including application layer functions, intelligent network services, and converged communications. The Cisco 3825 supports the bandwidth requirements for multiple Fast Ethernet interfaces per slot, time-division multiplexing (TDM) interconnections, and fully integrated power distribution to modules supporting 802.3af Power over Ethernet (PoE), while still supporting the existing portfolio of modular interfaces. This ensures continuing investment protection to accommodate network expansion or changes in technology as new services and applications are deployed. By integrating the functions of multiple separate devices into a single compact unit, the Cisco 3825 dramatically reduces the cost and complexity of managing remote networks.
100% Quality Assurance:
All items are ORIGINAL and GENUINE only.
Item conditions are "New Sealed" or "Used / Refurbished".
Used & refurbished items are fully tested with good conditions by Cisco-certified Engineers.
Free CCIE Technical Support:
You can contact our customer service team to exchange or return any product that you bought from us.
100% Money Back Guarantee:
Our FREE Cisco CCIE Expert Consultancy Support is over the phone, by chat, by email or by login remotely.
Flexible Secure Payment & Shipment:
Verified authorization: Mcafee Secure, VeriSign Secured
Return Material Authorization (RMA) Process
Standard Hardware Warranty Policy:
Original new sealed Cisco product: 1 Year
Used Cisco product: 3 Month
The Support Contacts:
If your Cisco products failed, you must contact your sales representative to verify product failure. If the problem still can't correct by remote support methods i.e. email or phone support, the RMA procedure will issue.
Mayor Información CISCO 3800 Series
http://www.cisco.com/c/en/us/support/routers/3800-series-integrated-services-routers-isr/products-installation-and-configuration-guides-list.html