Cisco Router CISCO3845-HSEC/K9, Cisco 3800 Router Security Bundle, 3845 Bund. w/AIM-VPN/SSL-3, Adv. IP Serv, 25 SSL lic, 128F/512D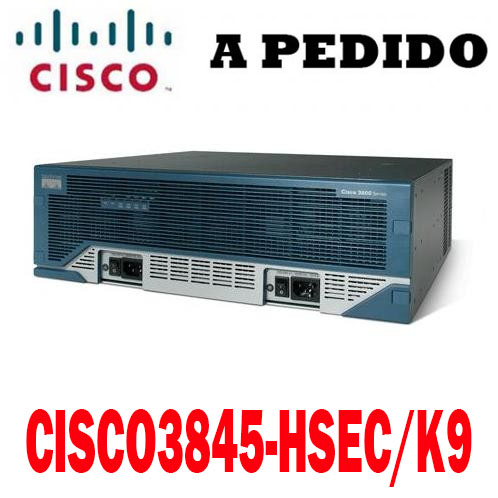 A Pedido de 20 a 30 dias
Specification (CISCO3845-HSEC/K9)
Cisco Systems is redefining best-in-class enterprise routing with a new portfolio of Integrated Services Routers optimized for secure, wire-speed delivery of concurrent data, voice, and video services. Founded on 20 years of innovation, the Cisco 3800 Series of Integrated Services Routers extends Cisco Systems' leadership in multiservice routing, providing customers with unparalleled network agility, performance, and intelligence. By transparently integrating advanced technologies, adaptive services, and secure enterprise communications into a single, resilient system, the Cisco 3800 Series routers ease deployment and management, lower network cost and complexity, and provide unmatched investment protection. The Cisco 3800 Series routers feature embedded security processing, significant performance and memory enhancements, and new high-density interfaces that deliver the performance, availability, and reliability required for scaling mission-critical security, IP telephony, business video, network analysis, and Web applications in the most demanding enterprise environments.The Cisco 3845 Security Bundle comes with IOS Advanced IP Services Image, AIM-VPN/SSL-3, 128 MB Flash/512 MB DRAM, and 25 User SSL License.
CISCO3845-HSEC/K9 data sheet
Manufacturer
Cisco Systems, Inc
Manufacturer Part Number
CISCO3845-HSEC/K9
Product Type
Router
Form Factor
External - modular - 3U
Dimensions (WxDxH)
43.8 cm x 40.6 cm x 13.3 cm
DRAM Memory
512 MB (installed) / 1 GB (max) - DDR SDRAM
Flash Memory
128 MB (installed) / 512 MB (max)
Data Transfer Rate
1 Gbps
Data Link Protocol
Ethernet, Fast Ethernet, Gigabit Ethernet
Network / Transport Protocol
IPSec
Remote Management Protocol
SNMP 3, SSH-2
Features
Cisco IOS Advanced IP services , firewall protection, hardware compression, hardware encryption, VPN support, MPLS support, content filtering, URL filtering, Quality of Service (QoS), Dynamic Multipoint VPN (DMVPN)
Power
AC 120/230 V ( 50/60 Hz )
100% Quality Assurance:
All items are ORIGINAL and GENUINE only.
Item conditions are "New Sealed" or "Used / Refurbished".
Used & refurbished items are fully tested with good conditions by Cisco-certified Engineers.
Free CCIE Technical Support:
You can contact our customer service team to exchange or return any product that you bought from us.
100% Money Back Guarantee:
Our FREE Cisco CCIE Expert Consultancy Support is over the phone, by chat, by email or by login remotely.
Flexible Secure Payment & Shipment:
Verified authorization: Mcafee Secure, VeriSign Secured
Return Material Authorization (RMA) Process
Standard Hardware Warranty Policy:
Original new sealed Cisco product: 1 Year
Used Cisco product: 3 Month
The Support Contacts:
If your Cisco products failed, you must contact your sales representative to verify product failure. If the problem still can't correct by remote support methods i.e. email or phone support, the RMA procedure will issue.
Mayor Información CISCO 3800 Series
http://www.cisco.com/c/en/us/support/routers/3800-series-integrated-services-routers-isr/products-installation-and-configuration-guides-list.html