HP Docking Station Advanced KP081AA#ABA, 150w, 1 x network, RJ-45 , 5 x Hi-Speed USB, 4 pin USB Type A , 1 x PoweredUSB 2.0 , 1 x modem, phone line, RJ-11 , 1 x parallel, IEEE 1284 (EPP/ECP), 25 pin D-Sub (DB-25) , 1 x serial, RS-232, 9 pin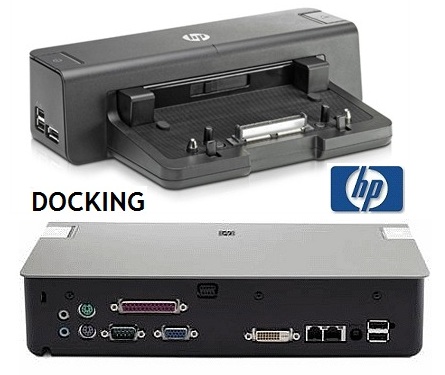 NEW HP Business Notebook Advanced Docking Station 469620-001, KP081AA, KP081AA#ABA, KP081UT, KP081UT#ABA, 483204-001
KP081AA - HP Business Notebook 2008 Advanced Docking Station. Robust desktop replacement solution for your mobile office with advanced features for future expansion.
Easy docking system provides port replication and cable management, plus expandability through an integrated SATA upgrade bay and ExpressCard slot - all in one product.
Six USB ports allow you to connect more peripherals to make you more productive.
Optional integrated HP/Kensington Cable Lock allows you to secure your docking station, notebook and integrated SATA drive with one lock.
Product Highlights
Standard Features
2 docking posts
Align and secure the computer for proper connection to the docking station
Docking connector
Connects the computer to the docking station
Visual alignment indicator
Helps you align the computer with the docking station for fast and easy docking
Power button and power light
Power indicators
Eject button and docking light
Ejects computer from docking station. Dock light is turned on when the computer is properly connected.
USB ports
6 USB 2.0 ports (1 powered)
Powered USB port
Allows you to connect to select powered USB as well as regular USB devices
Integrated cable lock slot
Supports the HP/Kensington Cable Lock, which secures the docking station, connected computer and the optional SATA upgrade drive
Audio and Network connectors
Audio, Ethernet and Modem ports
Legacy connectors
Mouse, Keyboard, Serial and Parallel connectors
Other connectors
Monitor Stand, VGA and DVI-D ports.
Upgrade bay
Supports all HP upgrade bay hard drives and optical drives for additional local storage capabilities
ExpressCard slot
Supports ExpressCard technologies for future expandability
HP Advanced Docking Station HSTNN-I08X 483201-001 KP081AA
Details
HP Advanced Docking Station / Port Replicator with HP UJ842 Internal DVD/CD Slot

PowerRequired: 19v 7.89a 120 Watt Power Adapter

Standard I/O connectors for attaching:

- Optical Drive Bay (No device Installed)

- 6x USB 2.0

- Ethernet

- Modem

- DVI

- VGA

- Serial

- Parallel

- 2x PS/2 (one keyboard and one mouse)

- Audio

- S-Video

- ExpressCard/54 Slot

HP Compaq Business Notebook 6510b, 6515b

HP Compaq Business Notebook 6710b, 6715b

HP Compaq Business Notebook 6910p

HP Compaq Business Notebook 8510p, 8710p

HP Compaq Business Notebook nc4200, nc4400

HP Compaq Business Notebook nc6120, nc6220, nc6230, nc6320, nc6400

HP Compaq Business Notebook nc8230, nc8430

HP Compaq Business Notebook nx6120, nx6125, nx6130, nx6320, nx6325, nx6330

HP Compaq Business Notebook nx7400, nx8220, nx8420, nx9420

HP Compaq Mobile Workstation 8510w, 8710w

HP Compaq Mobile Workstation nw8240, nw8440, nw9440

HP Compaq Tablet PC tc4200, tc4400

Please check compatibility before your purchase.
HP Compaq Business Notebook 6500 Series models :
HP Compaq Business Notebook 6510b, 6515b, 6530b, 6535b
HP Compaq Business Notebook 6700 Series models :
HP Compaq Business Notebook 6710b, 6710s, 6715b, 6715s, 6720s, 6720t, 6730b, 6735b
HP Compaq Business Notebook 6900 Series models :
HP Compaq Business Notebook 6910p
HP Compaq Business Notebook 8500 Series models :
HP Compaq Business Notebook 8510p, 8510w
HP Compaq Business Notebook 8700 Series models :
HP Compaq Business Notebook 8710p, 8710w
HP Compaq Business Notebook nc4200 Series models :
HP Compaq Business Notebook nc4200
HP Compaq Business Notebook nc4400 Series models :
HP Compaq Business Notebook nc4400
HP Compaq Business Notebook nc6100 Series models :
HP Compaq Business Notebook
HP Compaq Business Notebook nc6200 Series models :
HP Compaq Business Notebook
HP Compaq Business Notebook nc6300 Series models :
HP Compaq Business Notebook nc6320
HP Compaq Business Notebook nc6400 Series models :
HP Compaq Business Notebook nc6400
HP Compaq Business Notebook nc8200 Series models :
HP Compaq Business Notebook nc8230
HP Compaq Business Notebook nc8230 Series models :
HP Compaq Business Notebook nc8230
HP Compaq Business Notebook nc8400 Series models :
HP Compaq Business Notebook nc8430
HP Compaq Business Notebook nc8430 Series models :
HP Compaq Business Notebook nc8430
HP Compaq Business Notebook nw8200 Series models :
HP Compaq Business Notebook nw8240
HP Compaq Business Notebook nw8240 Series models :
HP Compaq Business Notebook nw8240
HP Compaq Business Notebook nw8440 Series models :
HP Compaq Business Notebook nw8440
HP Compaq Business Notebook nw9440 Series models :
HP Compaq Business Notebook nw9440
HP Compaq Business Notebook nx6130 Series models :
HP Compaq Business Notebook nx6130
HP Compaq Business Notebook nx6325 Series models :
HP Compaq Business Notebook nx6325
HP Compaq Business Notebook nx7400 Series models :
HP Compaq Business Notebook nx7400
HP Compaq Business Notebook nx8420 Series models :
HP Compaq Business Notebook nx8420
HP Compaq Business Notebook nx9420 Series models :
HP Compaq Business Notebook nx9420
HP Compaq EliteBook 6900 Series models :
HP Compaq EliteBook 6930p
HP Compaq EliteBook 8500 Series models :
HP Compaq EliteBook 8530p, 8530w
HP Compaq EliteBook 8700 Series models :
HP Compaq EliteBook 8730w
HP Compaq Tablet PC TC4200 Series models :
HP Compaq Tablet PC TC4200
HP Compaq Tablet PC TC4400 Series models :
HP Compaq Tablet PC TC4400
In the Box
1 Docking station (no cables, no drives, no other parts)